Leonid Meteor Shower 2002
I headed out of Glendale, then arrived at my "Top Secret" location at around Midnight. It was a very clear sky with no clouds. Only the full moon would hinder my viewing. This journey, I was alone, without any friends, however there were some other random people who came out to watch at the same spot as the evening passed. The CD changer played the same CD's that I had last year. The guy next to me started laughing when he heard the soundtrack to 2001: Space Odyssey, and yet sang along when he heard "Wish You Were Here" by Pink Floyd.
I set up a lawn chair and started watching. This time I kept a careful count of how many meteors I saw during each time period, and I noted the results about every 10 minutes or so. As you can see by the attached chart, the meteor shower peaked at about 2:40 AM PST, when I saw on average 8 meteors per minute.
There were no dramatic sightings this year, and the display was not nearly as good as last years "storm", but still impressive nonetheless. When I packed up to go at around 3:15 AM, I had seen almost 300 meteors. Not bad. I even saw a few more as I drove home.
Analysis:
The full moon certainly washed out many of the fainter meteors. If this had been on a new moon instead, the count probably would have been 2 or 3 times higher. Still, it was very fun and exciting to see so many meteors, over 1 every minute on avearage.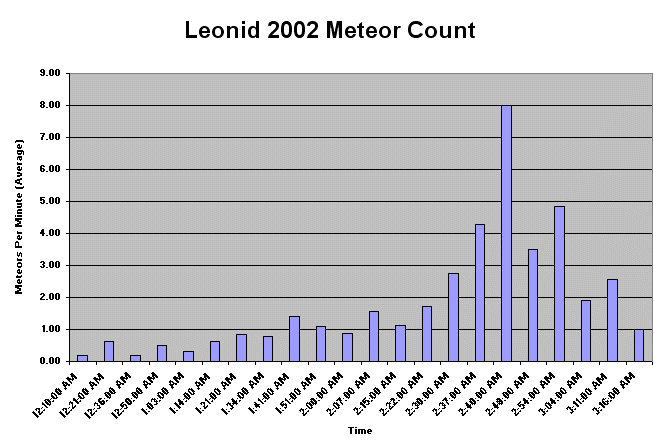 Page Last Updated Tuesday, February 04, 2003
---
All content Copyright © 2004 Don Hodges

Varios logos are trademarks of their respective companies.

Send Email to Don Hodges