The Hidden Message in Blue Max
for the Commodore 64
By Don Hodges 1/19/2010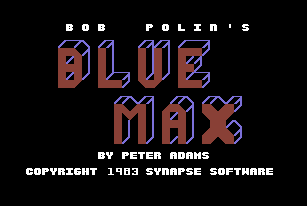 The computer game Blue Max was released by Synapse software in 1983 for the Commodore 64 computer.
This game contains a hidden message which can be revealed by using a sector editor.
I discovered this message in my youth, one night probably in 1984 or '85, probably while trying to hack the game to display my cracker name [The Phantom]. I was unsuccessful, but I did find something I was not expecting ...
On Track 12, sectors 1 through 4 we find the following message:
WHAT ARE YOU DOING IN MY CODE? YOU REALLY MUST HAVE SOMETHING BETTER TO DO THAN RIP ME OFF. BY TRYING TO CRACK THIS CODE YOU'RE CHEATING ME OUT OF WHAT I SHOULD EARN FOR THE WORK I PUT INTO IT. I WORKED HARD TO MAKE THIS GAME AND REALLY RESENT THAT I HAVE TO GO TO THESE LENGTHS TO KEEP PIRATES OUT OF MY CODE. BUT AS LONG AS THERE ARE PEOPLE LIKE YOU TRYING TO CHEAT PEOPLE LIKE ME, I'LL BE SPENDING AS MUCH TIME WRITING THIS SENSELESS PROTECTION AS I DO WRITING GAMES. SO WHY DON'T YOU JUST GIVE UP RIGHT NOW AND TELL YOUR PIRATE FRIENDS THAT YOU COULDN'T CRACK BLUE MAX. SPEND YOUR TIME DOING SOMETHING USEFUL WITH YOUR TALENTS, INSTEAD OF MAKING ME WASTE MINE. AND DON'T BOTHER LOOKING FOR MORE MESSAGES, THIS IS THE LAST OF THEM.
PETER ADAMS
As far as I can tell, this unimportant factoid had been lost in the sands of time ... until now, 27 years later.