The Invasion of Iraq
4/13/2006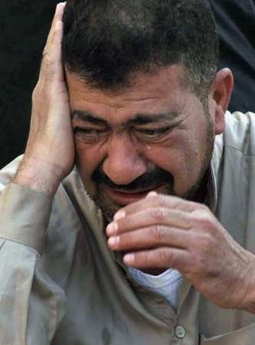 A man grieves for a dead relative outside the central morgue after a car bomb attack near the Iraqi city of Baquba April 13, 2006. A car bomb killed at least 26 people outside a Shi'ite mosque in the town of Howaydir north of Baghdad on Wednesday evening, police said. Some 70 people were wounded in the explosion, they added. REUTERS/Helmiy Al-Azawi
---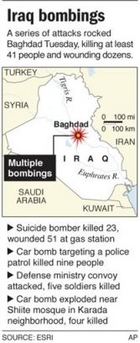 Feb 28, 2006
---

March 25 2005
---

April 13 2005
---

April 14 2005
---

A car bomb explodes, detonated by U.S. troops after it was discovered at the scene of the double car bombing in Baghdad, Iraq Thursday, April 14, 2005
---

January 27, 2005
---

Gloria Salazar, mother of Las Vegas Marine Cpl. William I. Salazar, cries on the coffin of her 26-year-old son Saturday, Oct. 23, 2004
---

A wounded Iraqi boy looks on following a bomb attack in central Baghdad, October 25, 2004. A car bomb blew up near a U.S. patrol in the Iraqi capital near the Australian embassy, killing three civilians and wounding six according to the U.S. military and witnesses. REUTERS/Thaier Al-Sudani
---

9/28/2004:
---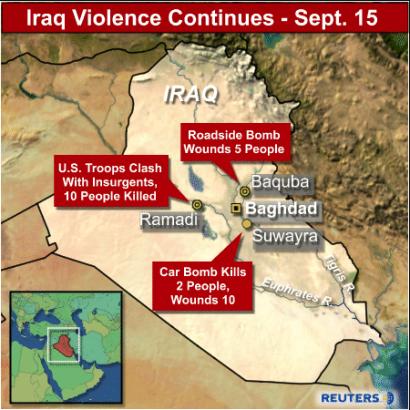 Sept. 15, 2004
---
Sept. 14, 2004
---

A minibus packed with explosives blew up near a police station and a market north of Baghdad July 28, 2004, killing 68 people and wounding 30 in the worst attack since the handover of power exactly one month ago. The powerful suicide bomb left a sea of destruction, obliterating market stalls and destroying several buildings. It raises fears of a fresh insurgent campaign just days before Iraq holds a major political conference to plot its future. (Reuters Graphic)
http://www.cnn.com/2004/WORLD/meast/07/28/iraq.main/index.html
---

June 24, 2004: coordinated assaults on local security forces killed about 100 people, including three U.S. soldiers.
---
Iraq attacks for April 8, 2004:

---
Flashback:
---
Mr. Kucinich is running for the office of President of the United States in the 2004 election.
http://www.kucinich.us/
---
---
"Targeting innocent civilians for murder is always and everywhere wrong." - George W. Bush , West Point graduation speech, June 1, 2002.
"What about when innocent civilians are 'accidentally' targeted during a military invasion?" - me, June 1, 2003.
---
CNN May 30, 2003: Terror threat level lowered to 'elevated'
The above headline seems oxymoronic to me. How can something be 'lowered' to 'elevated'???

You can read about the various terrorist risk levels here
We should all focus our energy now on finding ways to lower the risk down to the lowest level, "green". I have a few ideas about this if anyone is interested...
---